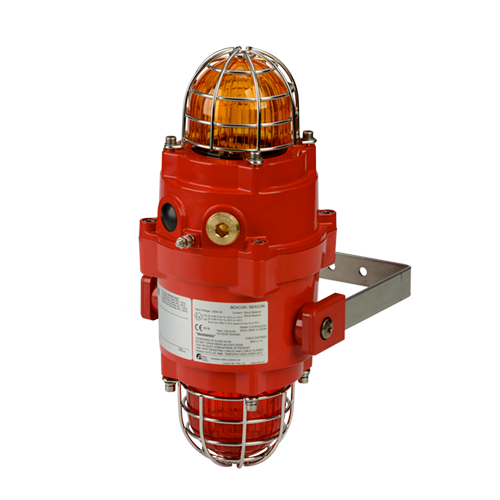 BExCBG05-05 Explosion Proof Dual Xenon Beacon 5 Joule
The flameproof BExCBG05-05 dual Xenon beacons are suitable for Zone 1, 2, 21 & 22 applications. Approved to IECEx, ATEX and Ex EAC standards.
The BExCBG05-05D dual 5 Joule beacons robust construction enables installation in the harshest of environments. The beacons may be connected from a single supply for simultaneous operation or from separate supplies for independent operation. Additional features include automatic synchronisation on multi-beacon systems and stainless steel guard and mounting bracket as standard.
The BEx range features enclosures manufactured from corrosion proof, marine grade copper free LM6 aluminium with a chromate and powder coat finish. All models have two M20 cable entries, large termination areas containing in & out terminals and an ingress protection of IP66/67.
Specification
Energy:
5 Joules x 2 (5Ws)
Flash rate:
1Hz (60 fpm)
Peak Candela:
500,000 cd x2 - calculated from energy (J)
Eff. Intensity cd:
250 cd x2 - calculated from energy (J)
Peak Candela:
39,463 cd* x2 - measured ref. to I.E.S.
Eff. Intensity cd:
120 cd* x2 - measured ref. to I.E.S.
Lens colours:
Amber, Blue, Clear, Green, Magenta, Red & Yellow
Voltages DC:
12vdc; 24vdc; 48vdc
Voltages AC:
115vac; 230vac
Ingress protection:
IP66/67
Enclosure matl:
Marine grade copper free LM6 Aluminium
Enclosure finish:
Chromate & powder coated finish - anti-corrosion.
Colour:
RAL3000 Red
(others available on request)
Cable entries:
Dual M20 ISO (one stopping plug inc)
Terminals:
0.5 - 2.5mm² (20-14 AWG)
Enclosure volume:
<2 litres
Line monitoring:
Blocking diode included
EOL Min. 500 Ohm 2w, or 3k3 Ohm 0.5w resistor
or diode (DC versions) can be fitted
Grounding stud:
M5
Temperature range:
-50° to +70°C (-58°F to +158°F)
Relative humidity:
95% - Additional tropicalisation is recommended for applications where both high relative humidity and high ambient temperatures exist
Tube life:
Emissions are reduced to 70% after 8 million flashes
Weight:
DC: 4.00kg/8.8Ibs AC: 4.35kg/9.57Ibs
*All candela data is representative of performance with clear lens at optimum voltage.
Current Consumption
Version:
Voltage:
Current (per beacon):
12V dc
10-14V dc
750mA
24V dc
20-28V dc
300mA
48V dc
42-54V dc
180mA
115V ac
50Hz/60Hz
+/-10%
140mA
230V ac
50Hz/60Hz
+/-10%
55mA
Part Codes
Version:
Part code:
Product type:
BExCBG0505
Explosion proof Dual 5J Xenon Beacon
Type:
DP
Ex d, UV stable PC Colour Lenses
Voltage:
DC024
AC115
AC230
24V dc
115V ac
240V ac
Cable Entry Type:[e]






Note:
A
B
C
D
E
F
G
2 x M20x1.5mm
2 x 1/2" NPT - adaptors
2 x 3/4" NPT - adaptors
2 x M25x1.5mm - adaptors
1 x 1/2" NPT - adaptor
1 x 3/4" NPT - adaptor
1 x M25x1.5mm - adaptor
M20 stopping plugs for unused entries supplied
Adaptor/Stopping
plug material: [m]
B
N
S
Brass
Nickel Plated
Stainless Steel
Bracket/guard matl: [s]
1
2
3
4
A2 304 Stainless Steel
A4 316 Stainless Steel
A2 304 St/St with Equip. Tag
A4 316 St/St with Equip. Tag (304)
Product version: [v]
A1
Default - IECEx, ATEX
Enclosure colour: [x]
R
S
Red RAL3000
Special - contact E2S
1st Xenon lens colour: [y]

2nd Xenon lens colour: [y]
A
B
C
G
M
R
Y
Amber
Blue
Clear
Green
Magenta
Red
Yellow
A
B
C
G
M
R
Y
Amber
Blue
Clear
Green
Magenta
Red
Yellow
Assemblies
Assemblies: The products from the BEx range are available as multiple unit assemblies pre-wired with and without junction boxes. See the BExP data sheet for further info or contact E2S sales.
Coding
II 2G Ex d IIB T4 Gb Ta. -50°C to +70°C
II 2D Ex tb IIIC T115°C Db Ta. -50°C to +55°C
II 2D Ex tb IIIC T130°C Db Ta. -50°C to +70°C
Effective Candela lens colour factor
Amber
Blue
Clear
Green
Red
Yellow
0.70
0.24
1.00
0.25
0.23
0.93