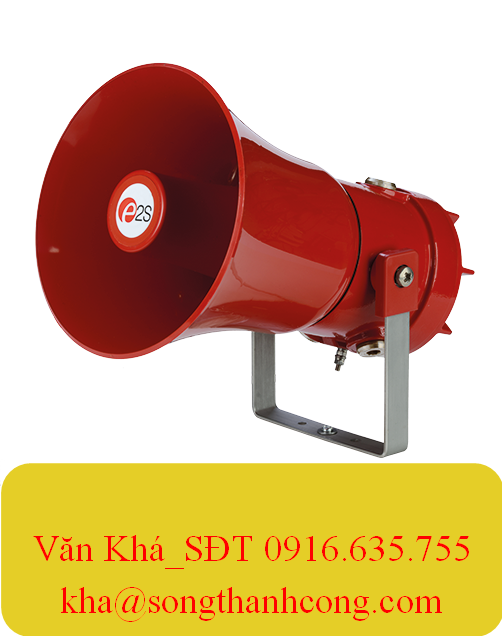 STExL1F PA Loudspeakers 15W
The STExL1F is a high output, 113dB(A) PA loudspeaker with a re-entrant flare horn. The high output driver in a robust IP66 corrosion proof 316L stainless steel enclosure ensure the STExL1F is suitable for all Zone 1, 2, 21 & 22 explosion proof applications.
Available with 70 or 100V line transformer or as low impedance versions, all models have triple cable entries, and large termination areas. The termination chamber and cover feature a threaded flameproof joint simplifying both installation and routine maintenance.
Specification
SPL:
102dB +/-3dB @ 1w @ 1m (Pink)
113dB +/-3dB @ 15w @ 1m (Rated)
Rated power:
15 Watts RMS
70v line tappings:
15w / 7.5w / 3w / 1w
(z=336.67 Ohms /653.33 Ohms /
1.6k Ohms / 4.9k Ohms)
100v line tappings:
15w / 7.5w / 3w / 1w
(z=666.87 Ohms /1.34k Ohms /
3.34k Ohms / 10k Ohms)
Low impedence:
8 Ohm or 16 Ohm
Dispersion:
120° @ 1kHz & 32° @ 4kHz
Frequency range:
400Hz to 8000 Hz
DC Line monitoring:
2.2µF Capacitor (Transformer )
470µF Capacitor (Low impedance)
Ingress protection:
EN60529: IP66
Enclosure
material:
316L Stainless Steel
Enclosure finish:
Chromated & powder coated
Colour:
RAL3000 Red
Cable entries:
3 x M20 ISO (2 x stopping plugs included as standard)
Adaptors to M25, 1/2" & 3/4" NPT can be specified
Terminals:
0.5 - 2.5mm² (20-14 AWG)
Enclosure volume:
<2 litres
Grounding stud:
M5
Temperature range:
-50° to +70°C (-58°F to +158°F)
Relative humidity:
95% - Additional tropicalisation is recommended for applications where both high relative humidity and high ambient temperatures exist
Weight:
6.25kg/13.75lbs
Part Codes
Version:
Part code:
Product type:
STExL1
Horn type:
F
Flare re-entrant horn
Type:
V100
V070
R008
R016
100V Line Transformer
70V Line Transformer
8 Ohm Low impedance
16 Ohm Low impedance
Cable Entry Type:[e]






Note:
A
B
C
D
E
F
G
3 x M20x1.5mm
2 x 1/2" NPT - adaptors
2 x 3/4" NPT - adaptors
2 x M25x1.5mm - adaptors
1 x 1/2" NPT - adaptor
1 x 3/4" NPT - adaptor
1 x M25x1.5mm - adaptor
M20 stopping plugs for unused
entries supplied with all options
Adaptor/Stopping
plug material: [m]
B
N
S
Brass
Nickel Plated
Stainless Steel (standard)
Bracket material: [s]
1
2
3
4
A2 304 Stainless Steel
A4 316 Stainless Steel (default)
A2 304 St/St with Equip. Tag
A4 316 St/St with Equip. Tag (304)
Product version: [v]
A1
IECEx & ATEX Group II 2G/D Zone 1, 2, 21 & 22
Enclosure colour: [x]
R
Red RAL3000
Coding
Ex db IIC Gb T6 Ta -50°C to +55°C
Ex db IIC Gb T5 Ta -50°C to +70°C
Ex tb IIIC Db T95°C Ta -50°C to +70°C