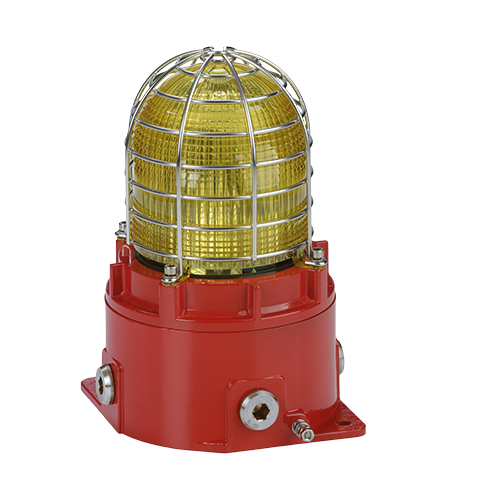 STExB2X21 Xenon Strobe Beacon 21 Joule
The STExB2X21 is an explosion proof 21 Joule Xenon beacon. The robust IP66 corrosion proof 316L stainless steel enclosure ensures the STExB2X21 is suitable for all Zone 1, 2, 21 & 22 hazardous location signalling applications.
The STExB2X21 beacons produce a high output Xenon flash required for effective signalling in environments with elevated levels of ambient light. The field replaceable colour filter enhances the strobe and is constructed from UV stable PC. The stainless steel enclosure features a threaded flame path, four cable entries and a large termination area - all of which significantly reduce installation time.
Specification
Energy:
21 Joules (21Ws)
Flash rate:
1Hz (60 fpm), 1.5Hz (90fpm) & double flash
Peak Candela:
2,100,000 cd - calculated from energy (J)
Eff. Intensity cd:
1,050 cd - calculated from energy (J)
Peak Candela:
181,491 cd - measured ref to I.E.S
Eff. Intensity cd:
902.69 cd - measured ref to I.E.S
Lens colours:
Amber, Blue, Clear, Green, Magenta, Red & Yellow
Voltages DC:
24vdc; 48Vdc
Voltages AC:
115Vac; 230Vac
Ingress protection:
EN60529: IP66
Enclosure matl:
316L Stainless Steel
Enclosure finish:
Chromated & powder coated
Colour:
RAL3000 Red
Cable entries:
4 x M20 ISO (3 x stopping plugs included as standard)
Adaptors to M25, 1/2" & 3/4" NPT can be specified
Terminals:
0.5 - 2.5mm² (20-14 AWG)
Enclosure volume:
<2 litres
Line monitoring:
Blocking diode included
EOL Min. 500 Ohm 2w, or 3k3 Ohm 0.5w resistor
or diode (DC versions) can be fitted
Grounding stud:
M5
Tube life:
Emissions are reduced to 70% after 5 million flashes
Temperature range:
-50° to +70°C (-58°F to +158°F)
Relative humidity:
95% - Additional tropicalisation is recommended for applications where both high relative humidity and high ambient temperatures exist
Weight:
6.0kg/13.23lbs
*All candela data is representative of performance with clear lens at optimum voltage.
Example part code:
STExB2X21AC230 [e][m][s][v][x]/[y]
STExB2X21AC230AS2A1R/R
STExB2X21 21 Joule Xenon Strobe, 230V ac,
4 x M20 entries, Stainless Steel stopping plugs,
A4 316 SS dome guard, IECEx & ATEX approved,
Red enclosure, Red lens
Current Consumption
| Version: | Voltage: | Current: |
| --- | --- | --- |
| 24V dc | 20-28V dc | 944mA |
| 48V dc | 42-54V dc | 428mA |
| 115V ac | 50Hz/60Hz | 464mA |
| 230V ac | 50Hz | 250mA |
Part Codes
Version:
Part code:
Product type:
STExB2
Type:
X21
Xenon Beacon - 21 Joule
Voltage:
DC024
DC048
AC115
AC230
20-28V dc
42-54V dc
115V ac +/-10%
230V ac +/-10%
Cable Entry Type:[e]









Note:
A
B
C
D
E
F
G
H
I
J
4 x M20x1.5mm
2 x 1/2" NPT - adaptors
2 x 3/4" NPT - adaptors
2 x M25x1.5mm - adaptors
1 x 1/2" NPT - adaptor
1 x 3/4" NPT - adaptor
1 x M25x1.5mm - adaptor
3 x 1/2" NPT - adaptors
3 x 3/4" NPT - adaptors
3 x M25x1.5mm - adaptors
M20 stopping plugs for unused entries supplied
Adaptor/Stopping
plug material: [m]
B
N
S
Brass
Nickel Plated
Stainless Steel (standard)
Guard material: [s]
1
2
3
4
A2 304 Stainless Steel
A4 316 Stainless Steel (default)
A2 304 St/St with Equip. Tag
A4 316 St/St with Equip. Tag (304)
Product version: [v]
A1
IECEx & ATEX Group II 2G/D Zone 1, 2, 21 & 22
Enclosure colour: [x]
R
Red RAL3000
Lens colour: [y]
A
B
C
G
M
R
Y
Amber
Blue
Clear
Green
Magenta
Red
Yellow
Coding
Ex db IIC Gb T4 Ta -50°C to +65°C
Ex db IIC Gb T3 Ta -50°C to +70°C
Ex tb IIIC Db T135°C Ta -50°C to +70°C
Effective Candela lens colour factor
Amber
Blue
Clear
Green
Red
Yellow
0.51
0.12
1.00
0.49
0.15
0.86