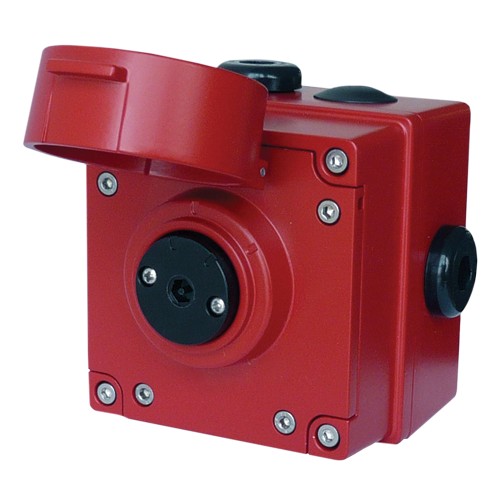 IS-CP4A-PT/IS-CP4B-PT Tool Reset Call Point
The IS-CP4A-PT and IS-CP4B-PT push button, tool resettable, manual call points are approved for Zones 0, 1, 2, 21 & 22 requiring intrinsically safe equipment for the control of fire and gas alarm systems. Available with and without monitoring resistors all versions are certified to ATEX and IECEx standards.
The push button mechanism is protected by a spring loaded cover therefore the switch requires a two-action activation. The push button is user resettable via the use of the special key supplied with the unit. The IS-CP4 range features enclosures manufactured from corrosion proof, marine grade, copper free LM6 (A413) aluminium which is phosphated and powder coated.
Specification
IS-CP4A-PT:
II 1G Ex ia IIC T6 Ga
II 2D Ex tb IIIC T60°C Db
IP66
IS-CP4B-PT:
II 1G Ex ia IIC T4 Ga
IP66
Ambient:
Ta = -40°C to +55°C [-40° to +131°F]
Ingress protection:
IP66
Housing material:
Marine grade copper free LM6
Aluminium
Housing finish:
Phosphated & powder coated finish:
anti-corrosion.
Colour:
RAL3000 Red (others available on request)
Cable entries:
2 x M20 clearance top and
1 x M20 clearance side.
Back box can be rotated to give
2 x bottom and 1 x side entries.
Stopping plugs:
2 x nylon plugs as standard
Brass and stainless steel plugs optional
Terminals:
6 x 4.0mm² cables
Weight:
0.8Kg
Part Codes
Option:
Code:
Description:
Type:
IS-CP4A-PT
IS-CP4B-PT
A type - no end of line devices
B type - choice of end of line devices
Terminals:
ST
ST: Standard 6 x 4mm²
Duty label:
NL
DL
No duty label
Duty label required - specify contents
Colour:
RD
XX
Red enclosure colour
Other enclosure colour - contact sales
E.O.L. Resistor:
ExxxR
Resistor value in Ohms e.g. E470R = 470 Ohm
(only required for IS-CP4B type)
Series Resistor:
SxxxR
Resistor value in Ohms e.g. E1K5R = 1.5K Ohm
(only required for IS-CP4B type)
e.g. IS-CP4A-PT-ST-LF-NL-RD
IS-CP4A Push button call point with 6 x 4mm² terminals and no duty label. Red housing
e.g. IS-CP4B-PT-ST-NF-NL-RD-E470R
IS-CP4B Push button call point with 6 x 4mm² terminals, no duty
label, with a 470 Ohm end of line resistor. Red housing.
Options
Alternative housing colours are available to meet specific requirements.
Metalised Polyester "Duty" label.
Series and/or End of Line resistors.
Plated assembly components
Versions
Version:
Input:
Voltage:
Terminals:
Cable entries:
IS-CP4A-PT
Ui = 30V
Ii = 500mA
Pi = 1.1W
Ci = 0
Li = 0
250V ac Max.
5.0A Max.
50V dc Max.
1.0A Max.
6 x 4mm²
2 x M20
Top/Bottom
1 x M20
Left/Right
Coding:
II 1G Ex ia IIC T6 Ga Ta = -40°C to +55°C
II 2D Ex tb IIIC T60°v C Db IP66
Version:
Input:
Terminals:
Cable entries:
IS-CP4B-PT
Ui = 30V
Ii = 500mA
Pi = 1.1W
Ci = 0
Li = 0
6 x 4mm²
2 x M20
Top/Bottom
1 x M20
Left/Right
Coding:
II 1G Ex ia IIC T4 Ga Ta = -40°C to +55°